VivAer for Nasal Airway Obstruction (Stuffy Nose)
Millions of Americans struggle to breathe through their nose due to nasal airway obstruction. This common but often undiagnosed condition can interfere with life's most basic functions such as sleep and exercise and can take a significant toll on one's quality of life and daily productivity.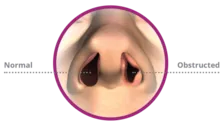 What is Nasal Airway Obstruction?
Nasal breathing normally delivers 70 percent of airflow to our lungs.1 Nasal airway obstruction, also referred to as nasal blockage, limits airflow and makes breathing through your nose more difficult. The most common symptoms of nasal airway obstruction include nasal congestion or stuffiness, trouble sleeping, and difficulty breathing well during exercise or exertion.
Traditional Treatment Options
While decongestants, nasal steroid sprays or antihistamines may address underlying allergy triggers or other causes of nasal swelling, these medications and sprays often provide only temporary or incomplete relief.
When medications fail to resolve symptoms of nasal airway obstruction, surgery may be required to improve airflow. These more invasive procedures may bring relief to some patients, but they don't address all of the underlying anatomical issues and typically require general anesthesia and longer recovery times.
VivAer®: A Non-Invasive Treatment for Patients with Nasal Airway Obstruction
VivAer® is an innovative, non-invasive treatment that provides lasting relief from nasal airway obstruction. West Coast ENT now offers this convenient and effective treatment and we're excited about the numerous benefits it provides to patients.
VivAer® features a thin, wand-like, temperature-controlled stylus that attaches to a console. The stylus is inserted via the nostril to gently remodel the nasal tissue and improve airflow using patented temperature-controlled radiofrequency technology. Treatment can be performed with a local anesthetic during a routine office visit, with no incisions, minimal to no downtime, and minimal discomfort. Patients typically return to normal activity on the same day.*
In clinical studies, treatment with VivAer® demonstrated both rapid symptom relief as well as long lasting results for patients. Two years following treatment, 97% of patients still reported significant improvement in nasal breathing,2,3 94% experienced improved nasal breathing during exercise or exertion4 and 89% reported improved sleep quality.4 At West Coast ENT we strive to provide our patients with the highest quality of care, and we are thrilled to add VivAer® to the treatments available in our office.
If you would like to learn more about VivAer®, please schedule a visit by calling our office.
View Important Safety Information.
*Individual results may vary.

1Crawford-Brown DJ. Theoretical and Mathematical Foundations of Human Health Risk Analysis. Boston, MA: Kluwer Academic Publishers; 1997:103.
2Ephrat M, Jacobowitz O, Driver M. Quality‐of‐life impact after in‐office treatment of nasal valve obstruction with a radiofrequency device: 2-year results from a multicenter, prospective clinical trial. [published online ahead of print 09 August 2020]. Int Forum Allergy Rhinol. 2020;00:1-11. doi.org/10.1002/alr.22667.
397% Responder rate for ≥15 point improvement in NOSE Scale score over baseline at 2 years.
4Prospective, Multi-Center, Non-Randomized Study to Evaluate the Quality of Life Impact After Treatment of Nasal Airway Obstruction Using the Aerin Medical VivAer Stylus. Aerin Medical Report TR680-01.