My sinuses hurt all the time; What Can I Do? How you can prevent fungal sinusitis.
Your head hurts right above your eyes, and your nasal passages are so irritated. The pain just won't go away no matter what you do. There is a chance you may be suffering from fungal sinusitis. It's time to see a specialist at West Coast Ear, Nose and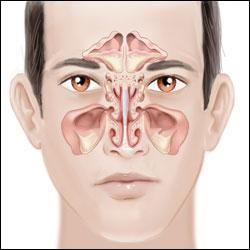 Throat in Simi Valley, Thousand Oaks, Camarillo, and Oxnard, CA to help relieve your pain.
Sinusitis or inflammation of the sinuses can be either bacterial or fungal and the most common of these is allergic fungal sinusitis, which occurs primarily during cold months of the year. Symptoms of fungal sinusitis can include:
Sneezing
Swelling around your eyes
Headaches that don't go away
Pain in your nasal passages
Your Simi Valley, Thousand Oaks, Camarillo, and Oxnard ENT specialist wants to make sure you are doing everything you can to prevent fungal sinusitis. There are things you can do to make your body less susceptible to fungal infection. You can protect yourself by:
Irrigating your nasal passages with saline rinses to keep passages clean
Avoiding grains and sugars because fungus feeds on these foods
Taking fish oil supplements to boost your immune system
Getting enough exercise which expands your sinuses
Your ENT specialist in Simi Valley, Thousand Oaks, Camarillo, and Oxnard can find out the cause of your fungal sinusitis and prescribe treatments to help you. Common treatments include:
Prescription antifungal medications
Allergy shots or tablets
Prescription antihistamines and decongestants
Nasal or oral corticosteroid medications
For more severe cases of fungal sinusitis, you may need sinus surgery, but only your ENT specialist at West Coast Ear, Nose and Throat can tell you for sure. That's why it's important if you are suffering from sinus problems to see your specialist before your fungal sinusitis becomes more severe. Don't wait, call West Coast Ear, Nose and Throat with four locations to serve you in Oxnard, Simi Valley, Thousand Oaks and Camarillo, California and get help today!